UPCOMING AND CURRENT EVENTS
 Liverpool Print Fair- On pause, FOR NOW
https://www.liverpoolprintfair.co.uk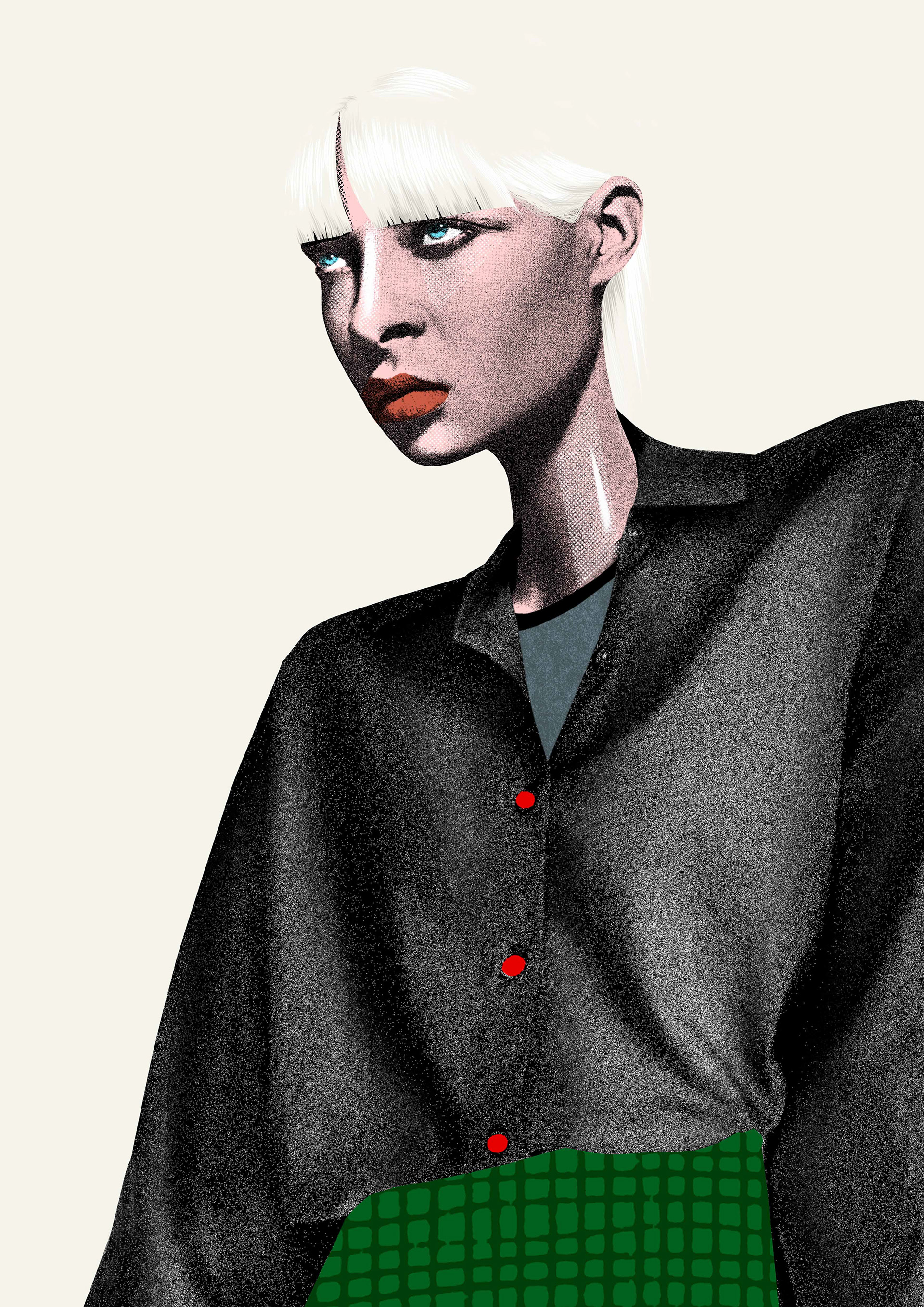 20.01.20- 02.02.20- Exhibition and Art Sale
Sam Scorer Gallery5 Drury LaneLincoln LN1 5BN
https://www.samscorergallery.co.uk/whats-on/2020/1/21/inspired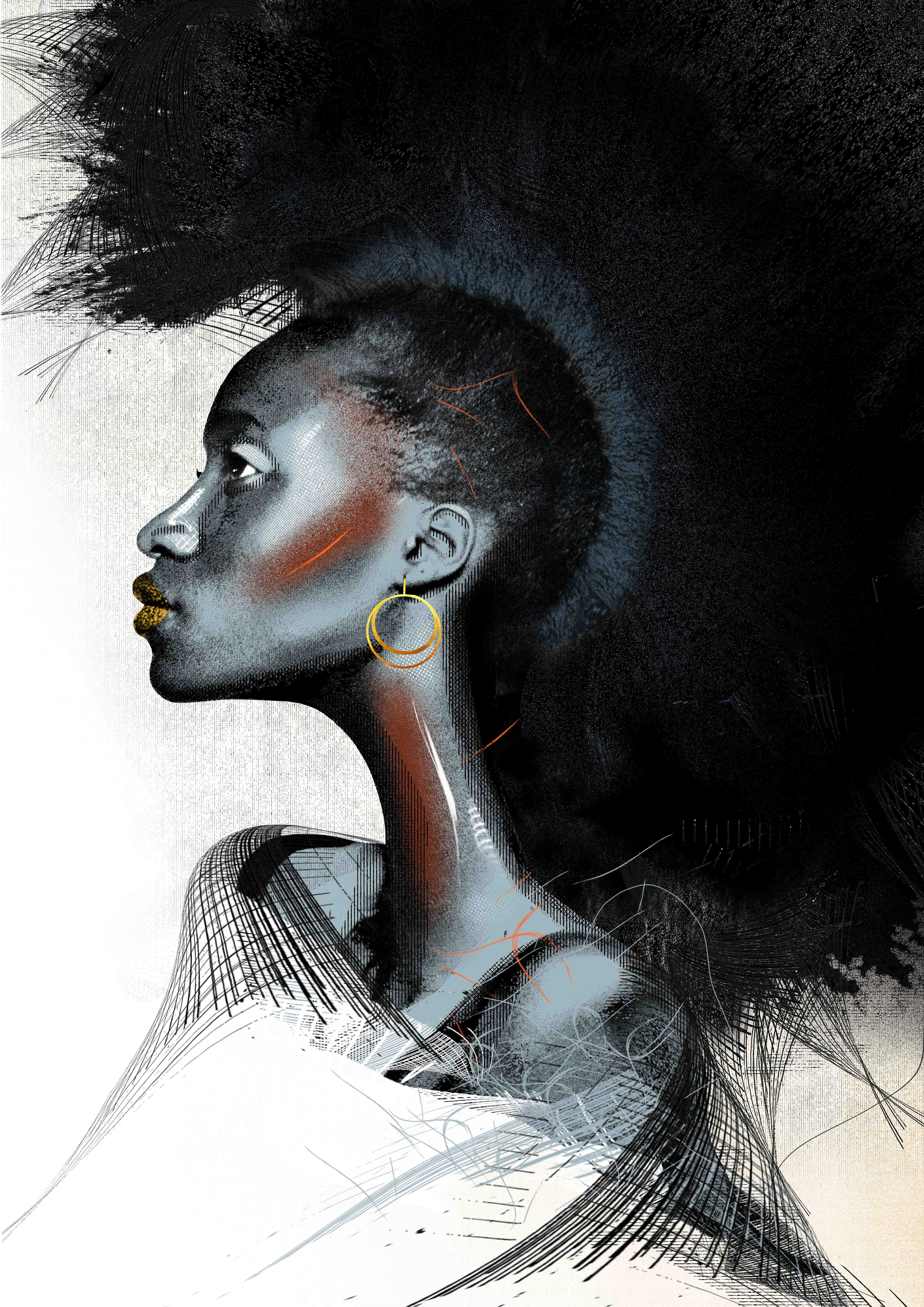 TICKETED Small Fry Chats hosted by Derek Brazell (7-10PM)
https://smallfrycollective.com/the-re-fry-small-fry-chats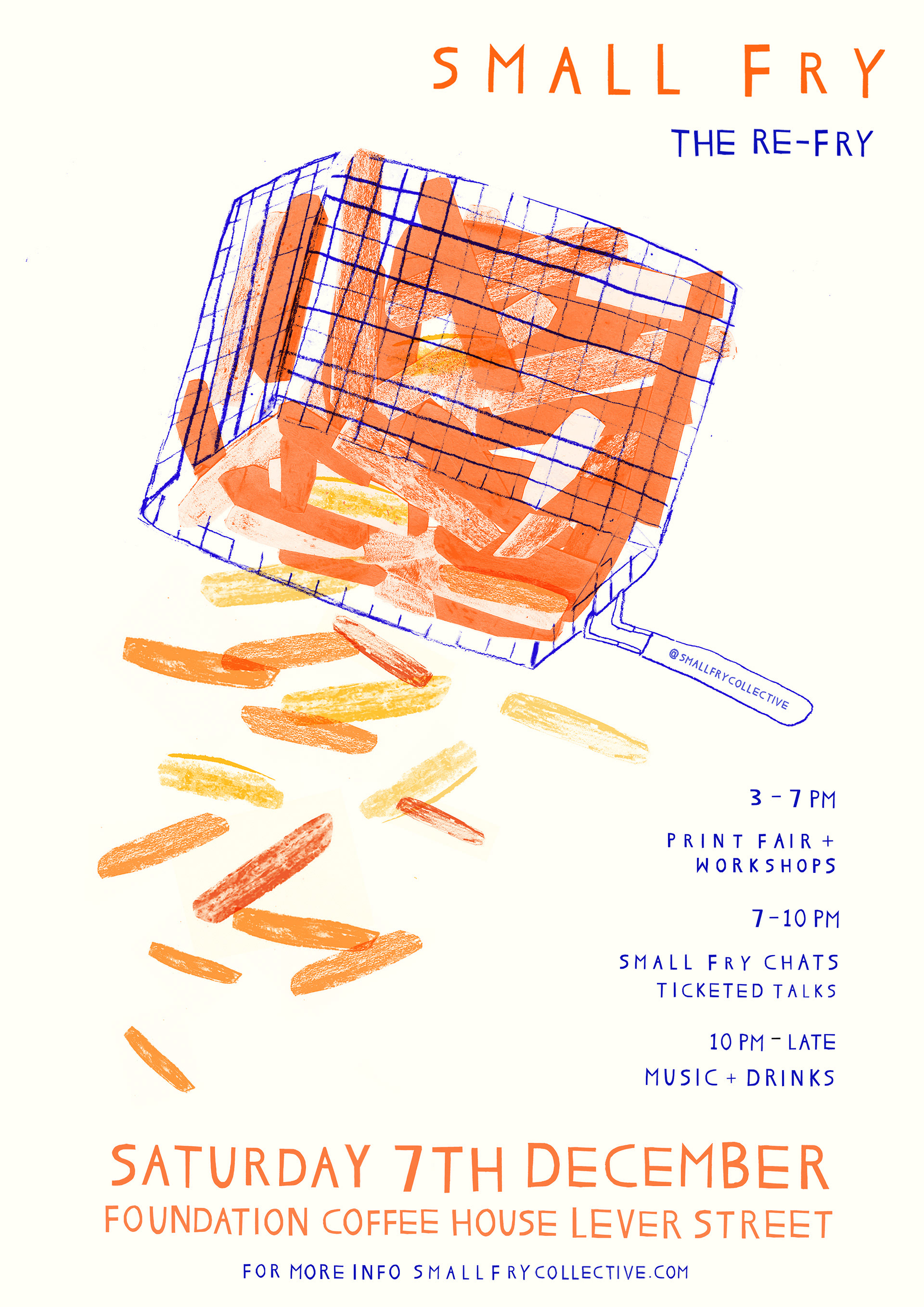 05.12.19-07.12.19- Marple Winter Pop-up
An exhibition and art sale, featuring a large variety of work from six Illustrators/Print-makers.
https://printmakerswinterexhibitionmarple.eventbrite.co.uk
https://www.facebook.com/events/2496784137256955/
02.12.19 - 23.12.19- Exhibition and Art Sale
A group exhibition taking place throughout the whole of December.
St. Martin's Square, Lincoln, LN1 1ET.
https://www.galleryatstmartins.com
23.11.19- Liverpool Print Fair
Liverpool Print Fair is a celebration of all things print, bringing artists, designers and storytellers together to showcase their work in its many forms. The event is perfect place to find affordable prints and sequential art, with a dynamic mix of styles among the stalls.​​​​​​​
Camp & Furnace
67 Greenland St
Liverpool L1 0BY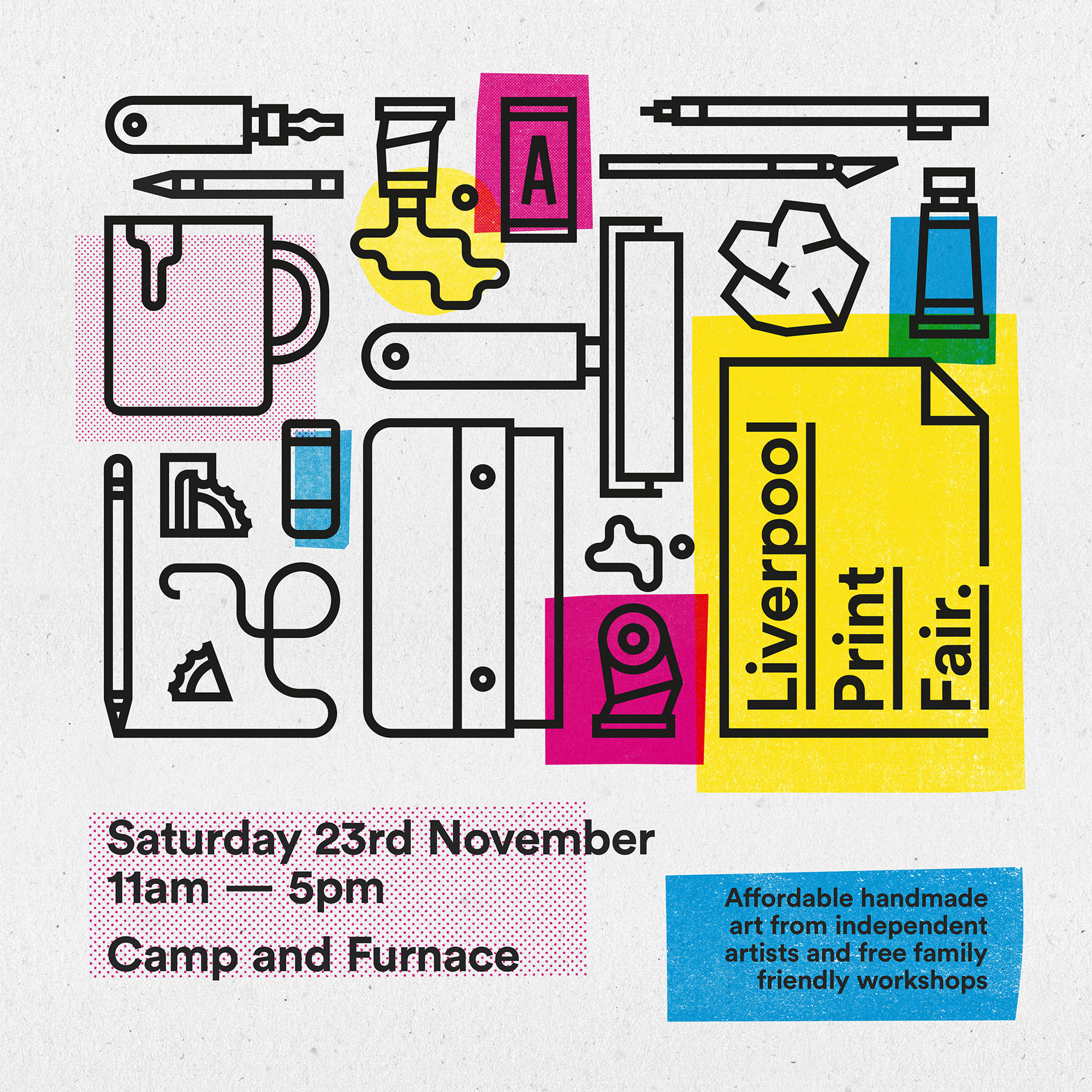 09.11.19- Bury Print and Makers Fair
A print and makers fair full of gift items for the lead up to Christmas.
Bury Art Museum and Sculpture Centre | Bury Art Shop
Moss St. Bury, BL9 0DR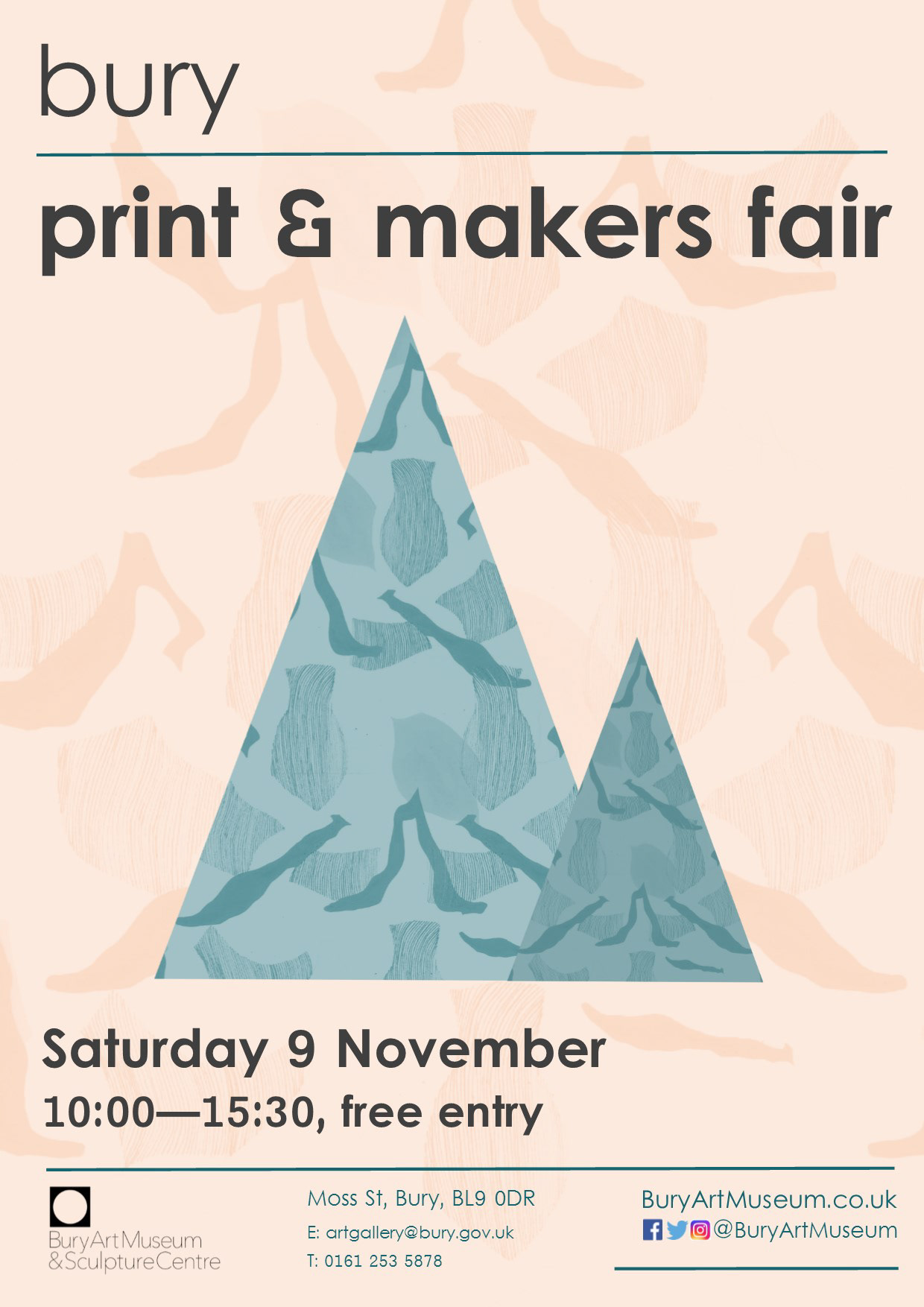 28.09.18 - Hull Print Fair
An annual celebration of all things print as 30 stall holders from Hull and beyond showcase their work at 66-68 Humber Street.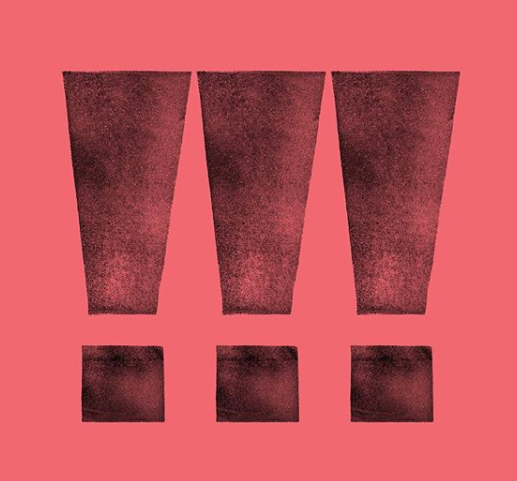 07.09.19- Pop-up Art Fair
Cotton On MCR is a site dedicated to finding all things art related in Manchester, finding out what exhibitions are on and where to find them. They promote the visual arts of Manchester through their blog, social media, their online shop and events. On the 7th September they are hosting their first ever 'Cotton On MCR Pop-Up Art Fair'. There will be 25 stalls featuring a mix of painting ceramics, jewellery and prints.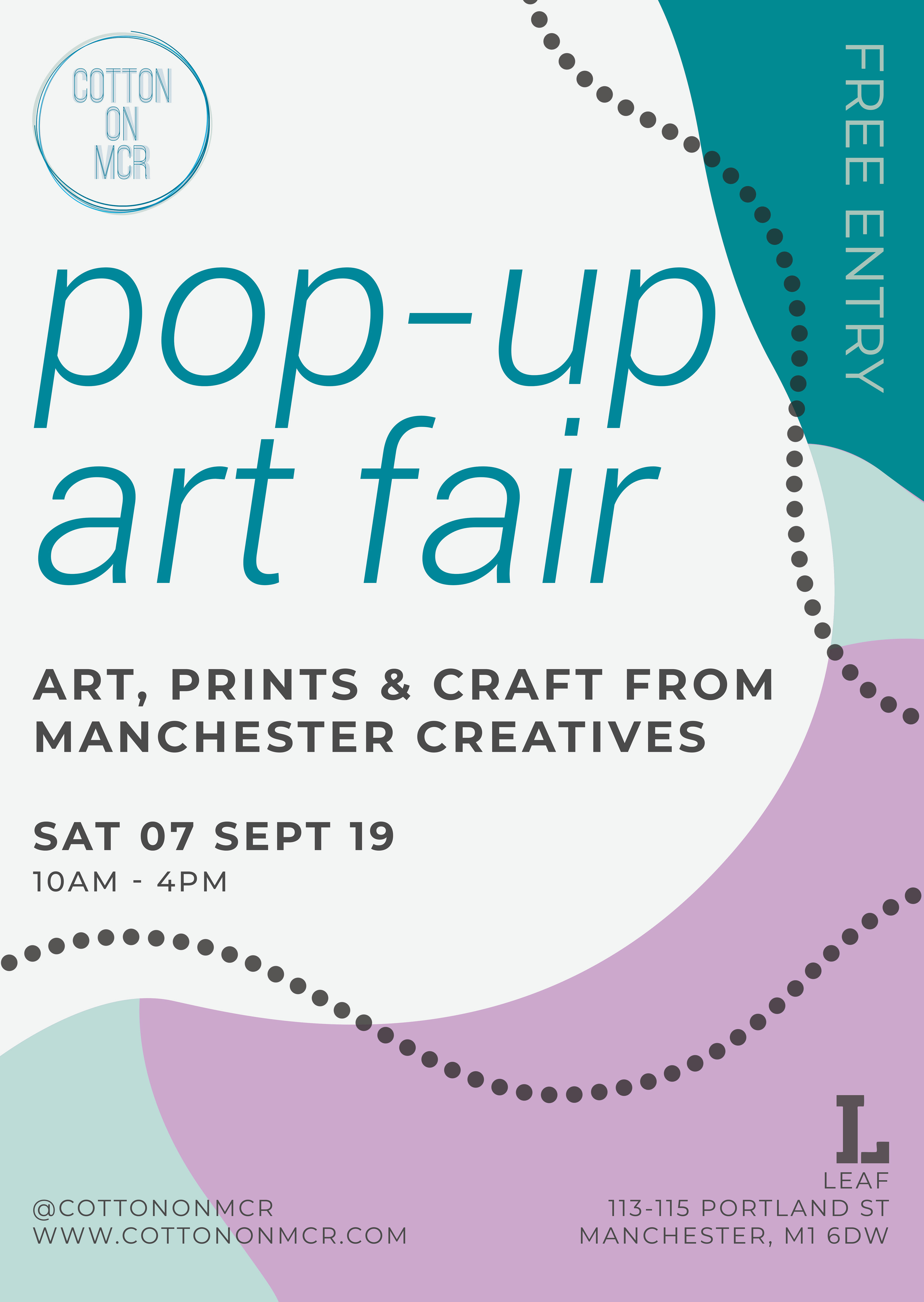 19.08.19- 25.08.19 Exhibition and Art Sale
An exhibition of Annie Ryan's illustrated characters. Taking place during the Lincolnshire Steampunk Festival at St. Martin's Square, Lincoln, LN1 1ET.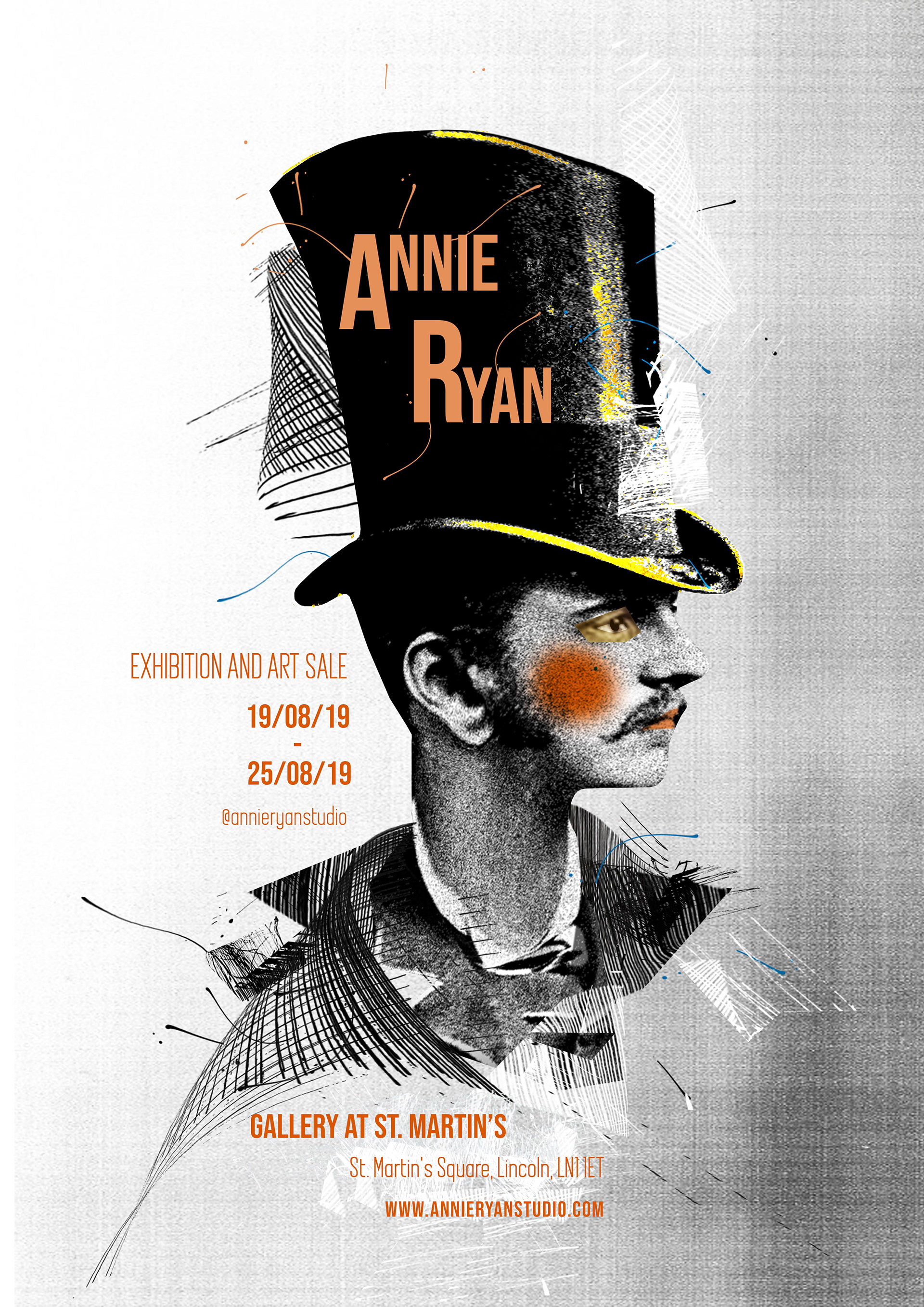 20.07.19- Wayzgoose Print Fair
As part of Manifest Arts Festival Hot Bed Press ( a printmakers studio in Salford) hosted a print fair as well as free print demonstrations and have-a-go sessions.
Poster design by Toby Hawksley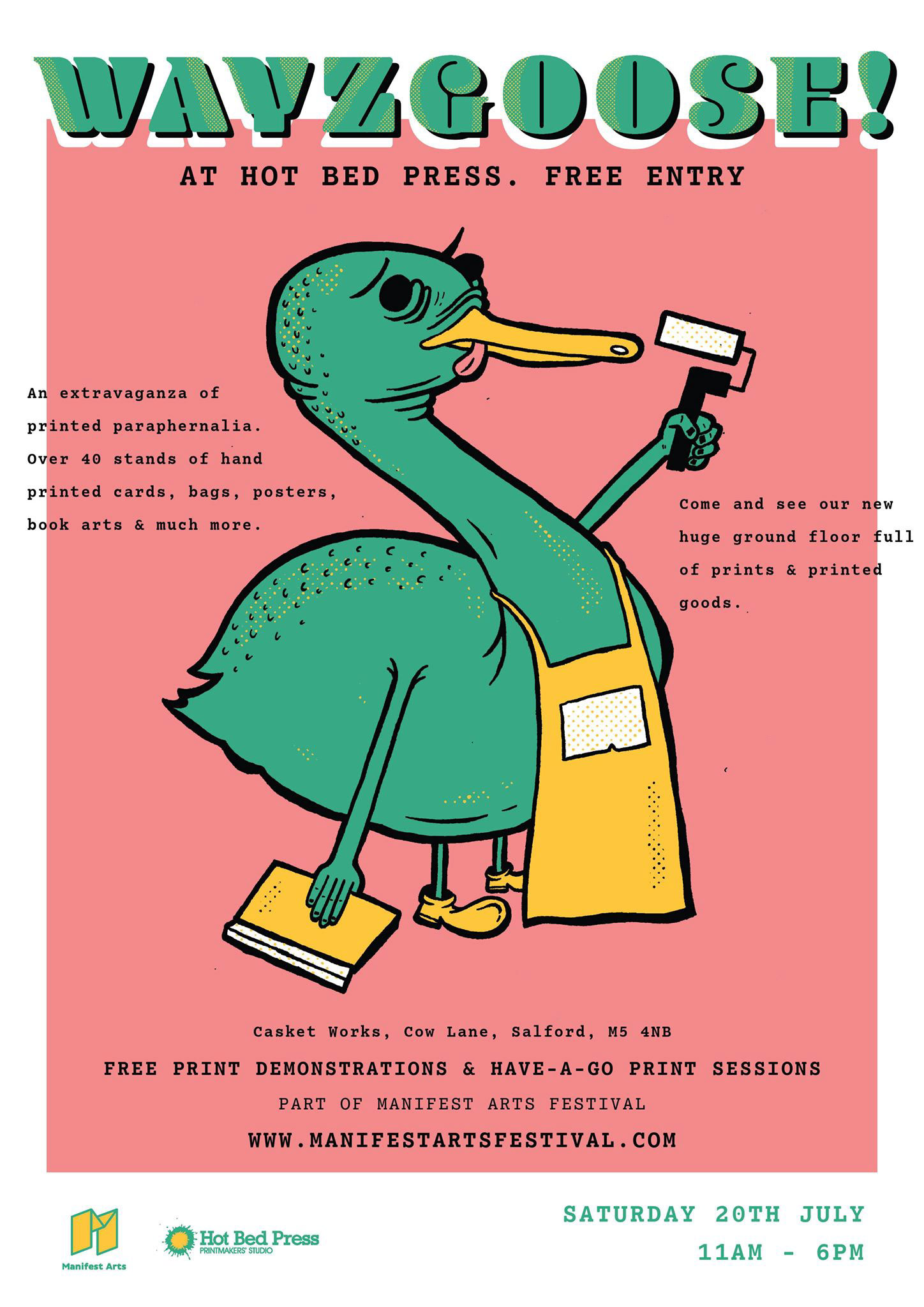 13.07.19 -Print Demonstrations
Screenprinting demonstrations on King Street as part of Manchester Youth Market.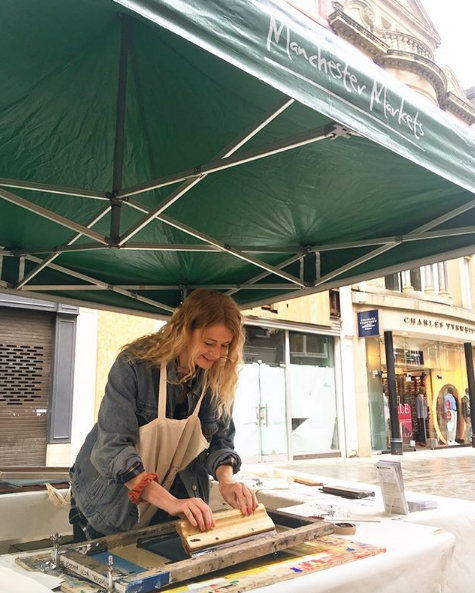 An Illustration and photography exhibition.
Nexus Art Cafe, 2 Dale Street, Manchester, M1 1 JW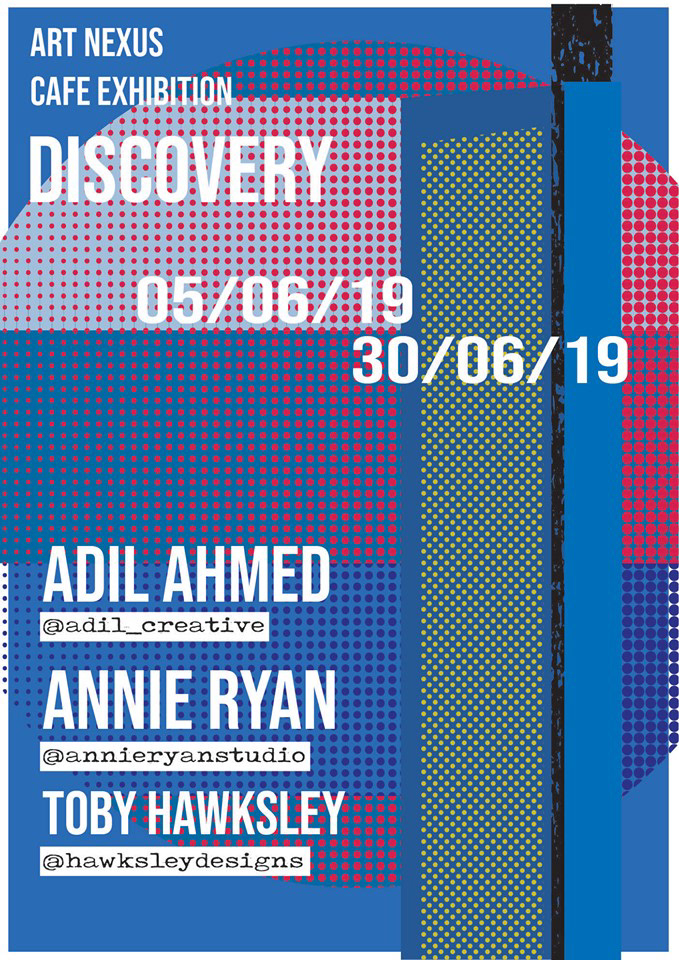 11.05.19- Manchester Print Fair
A print fair celebrating the best of print making and graphic design since 2011.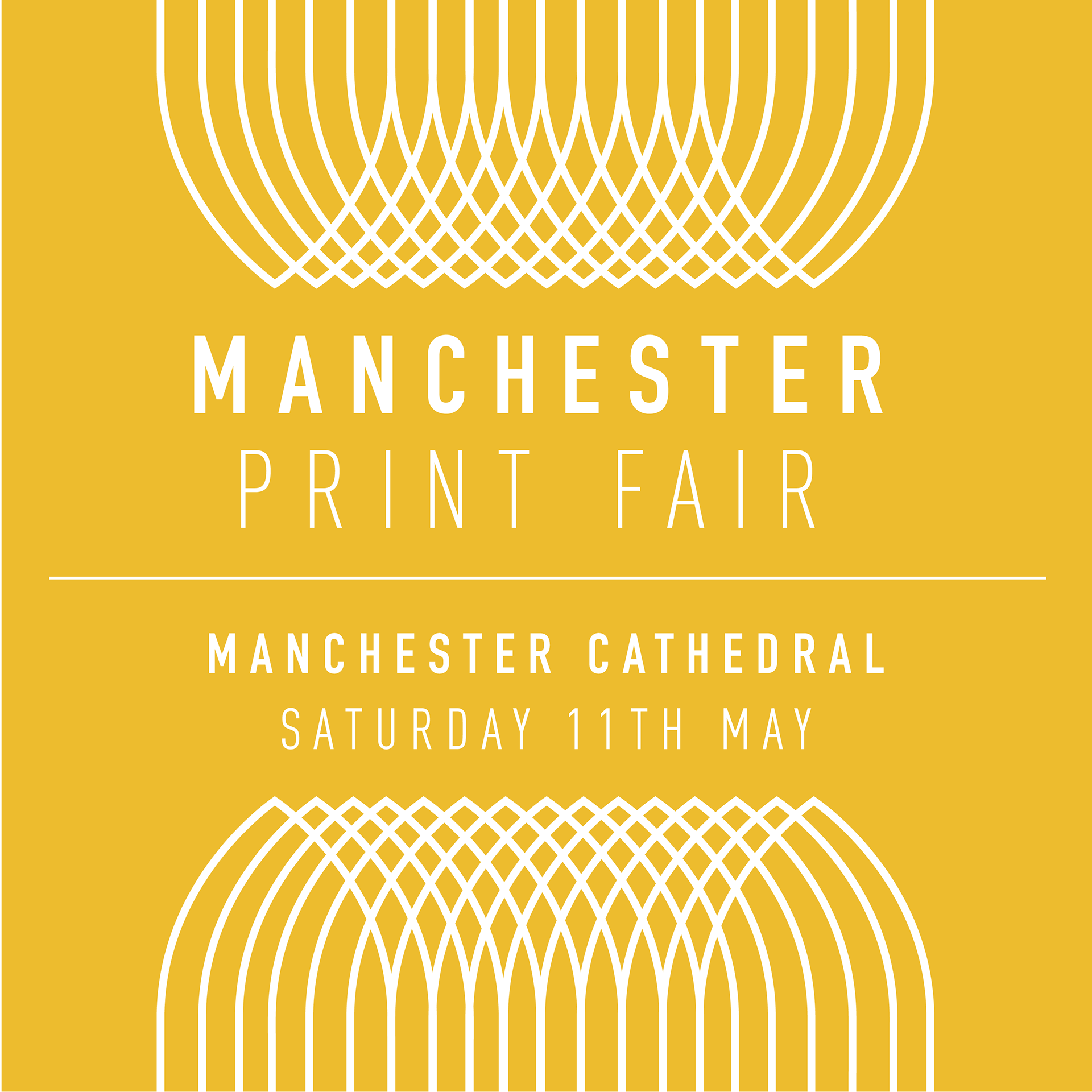 27.04.19- Bury Print Fair
A collection of contemporary printed art at Bury Art Museum.
15.04.19- 21.04.19- Figures and Faces
An exhibition of illustrated characters by Annie Ryan. 
St. Martin's Square, Lincoln, LN1 1ET.